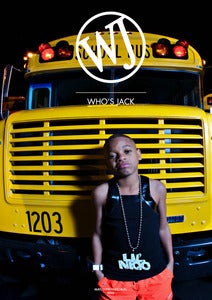 £

10.00
You are about to purchase the new deluxe issue of Who's Jack.
WJ Magazine is back with a bigger, better and totally new kind of magazine with over 100 pages of beautiful coffee table top fodder.
Aside from our usual Who's Jack interviews, fashion shoots and comment pieces spanning fashion, art, film, music and London we have also added a new London based offers system. We have gone to all our favourite bars, labels, club nights and more to get you exclusive offers as Jack readers. All you have to do is buy the mag!
It doesn't stop there. This issue also comes with a limited edition print from artist Sarah Maple and a custom designed bag by fashion designer Ada Zanditon.
There are also 4 pairs of tickets to UK festivals that have been placed at random in 4 of the issues on sale Willy Wonka stylee.
WJ Magazine : Game Changers : May-Aug is a Ltd Edition of 500.
Offers this issue come from :
Supper Club
Tuk Tuk clothing
AM Eyewear
Shaka Zulu
A number of club nights
Aubin Gallery
XOYO
Field Candy and more
Featured :
MEG MYERS / ADA ZANDITON / STUART SEMPLE / LIL NIQO / RANKIN / SADIE FROST / HANNI EL KHATIB / JAMIE N COMMONS / PETE DOHERTY
as well as general fashion / film / art / music / London / Events
If that's not enough for you there is still more to come....
Images of Sarah Maple print coming soon.
All orders will be posted out on the 1st May.